Mental Training
Lisa works with athletes in all sports, and consults coaches and parents. She teaches essential psychological tools and with her unique approach, athletes shift out of doubt and anxiety, and into a confident, clear mindset. Self-esteem increases and quality of performance becomes more accurate and consistent.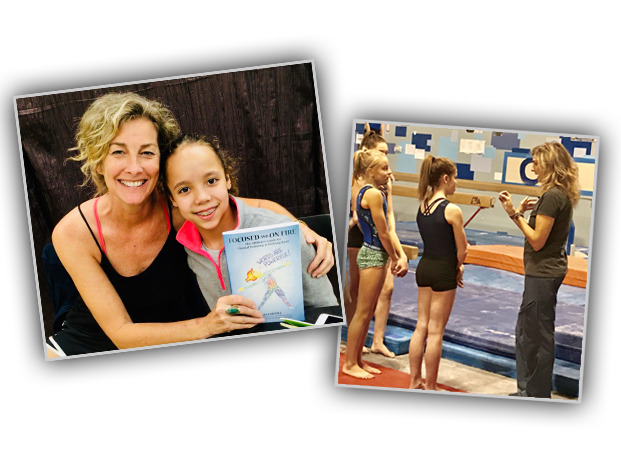 Athletes work hard, feel immense pressures, and they are human beings — and all humans experience emotions. In order to manage emotions in sports (or any part of life), we must be in tune with our thoughts. Mental training is that. Being in tune with the self. When athletes work with me, mental training is a wonderful journey in self-awareness and emotional intelligence. Working together and learning mental skills, applying them and seeing terrific change, is a great adventure.
For every athlete, creating a trust is very important. So I start with us getting to know each other, chatting about training, school, family, and we laugh. Mental training is always fun. That's important. Together, we identify goals, discover thought patterns and habits, and what is creating doubts or fears – then we go on a journey. As we talk, we also write short notes, implement simple exercises, and even repeat power phrases. I recommend my mental training book, Focused and On Fire, because it has all the mindsets and easy lessons. The book is motivating, and it's a reminder and a resource for ongoing use. I also wrote a coach/parent book, Focused and Inspired. I highly recommend it to learn how to positively support your athlete's mental & emotional development and progress in sports. For bulk purchases, contact Lisa for best prices: zentigermind@gmail.com
Reportedly, the most powerful mental skill is visualizing. It's true!  It takes specific steps to learn it and practice it effectively. There are many tools, mindsets, and strategies I use, and as we work together, I frequently check on progress. That is the best part! Making progress. There may be dips in this journey, and that's normal, but there is always progress and positive feelings. More than anything, we want to build self-esteem and self-efficacy so athletes feel good about themselves, and they can truly reach their goals.
How Many Sessions do We Need? 
~ About 4-8 sessions for small- or mid-level issues (i.e., some stress, doubts, low confidence, yet very motivated to improve). 
~ About 10-15 sessions for more complex issues (i.e., reoccurring fear, feeling overwhelmed, anxiety, difficulties in communication with coaches/parents, low self-esteem, mental blocks, desire to improve yet motivation is up and down). Depending on the issues and other circumstances, some athletes may need more. 
CURRENT HOLIDAY SPECIALS! 
Holiday Refresher!
30 min 1-1 sessions
$55 for 1  (reg $125)
$100 for 2  (reg $220)
Full Sessions, Regular &

Current

 

Discount

Fees: "
1 hour" is 45-50 min, depending on what's needed
$170
$130
– 1 session    (save $40)
$480
$400
– 3 sessions  (save $80)
$640
$500
– 4 sessions  (save $140)
$790
$600
– 5 sessions   (save $190)
$950
$700
– 6 sessions  (save $250)  
Contact Lisa Mitzel at heymitz@gmail.com to inquire about sessions for your athlete or for any questions. Thank you!
Note: Discount packages are paid in advance. Regular sessions do not require travel. On the road, travel expenses are covered by clients, and fees may increase depending on logistics and travel time.
Bring to Each Session:
~ Notebook, pen/pencil, and an open mind. 
~ A copy of Focused and On Fire. I often suggest sections to read and then report to me what was helpful! 
Contact Lisa to get started:
email: HeyMitz@gmail.com 
Provide the following info, below, and please be brief with answers. We may also follow up with a short introductory phone call. You can copy and paste into an email. Thanks! 
1. What's your athlete's first and last name & gender?
2. Athlete's age? 
3. What grade? 
4. What sport and how long playing it? 
5. What level? 
6. Does he/she have any goals? Immediate goals, or long term?
7. Describe obstacles he/she mentions that effect mood and performance – a fear? lack of confidence in abilities? A certain person that applies pressure? Anything else in life? 
8. Is there a history of mental or physical issues that have prevented or restricted training? 
9. Has your athlete ever participated in Mental Training? If so, pls describe briefly. 
10. Has your athlete ever wanted to quit? If so, what was the reason?
11. What do you, as the parent, want for your athlete from mental training sessions with me?
12. Parent 
First and Last name:  
Your cell phone:
Your home address & Time Zone:  
Club / Team your athlete is on:
Oh, Where are Sessions held? 
Sessions can be in person (we will decide on a location) or at a distance, via Skype or FaceTime. 
Lisa Travels: For driving or flying, clients cover all expenses. Please ask for details. 
Best Techniques and Approaches
6 Mental Skills
Breathing
Relaxing
Positive Self-talk
Recall
Visualize/Imagery
Focus/Concentration
Using these tools gives athletes the ability to feel confident, in control, and perform their best.
What Can You Control On Your Path To Achievement?
Learn to identify and focus on what you CAN control and change, and let go of what you can't.
Self 1 vs. Self 2
Become aware of your critical voice, learn to shift thoughts, refocus, and trust your preparation. Connect with your body's training and your body's intelligence for accurate performance.
Identify Anxieties and Overcome Them
Slowww down, break down pressures and expectations, practice getting calm, and create what you want.
Contact Lisa to Schedule your Athlete, or for Consultation with Coaches or Parents
The Benefits of Mental Training
When athletes learn and practice mental skills, the benefits are:
Acute awareness of thoughts, breath, and body;

The capacity for deep focus, shutting out all distractions;

The aptitude to slow down the mind, reduce stress and overcome struggles;

Accuracy and consistency in performances;

The habit of creating a peaceful, confident feeling inside, even under pressure.
As athletes practice mental skills, they'll be able to distinguish between feeling calm and nervous. They will execute well in the most important moments. And they will notice sooner when they start to feel afraid, then manage it, or speak up and get help.
How I learned mental skills: I was 15 yrs old when I first worked with Dr. Ken Ravizza, a pioneering sports psychologist at Cal-State Fullerton. I had a bad crash in the gym, and developed an awful fear. I regressed and lost 70% of my gymnastics skills. We worked intensely, two hours a day, twice a week, for several months. I'd been training with hopes of making the 1980 Olympic Trials, but I had a terrible crash. Crashed on my head on a double back (2 flips in the air), and developed terrible fear, anxiety, and even lost most of my skills. I completely forgot how to do them and decided to quit. I was devastated. But then I met Dr. Ravizza, and I learned mental skills, adjusted my goals, gradually re-learned what I'd lost and — s-l-o-w-l-y gained confidence — and 6 months later, I was a 2-time U.S. Jr. Olympic National Champion….a miracle.
A couple years later, on scholarship at the University of Utah, my freshman year, our team captains told us they wanted to win Nationals. Seriously, The pressure was immense. But we were driven. We did mental practice with Dr. Keith Henschen. And…every year, we went to NCAA Nationals and WON.
The University of Utah women's gymnastics team won six consecutive Division I National Championship titles — I was on four of those teams. We learned from Dr. Henschen to manage our thoughts, focus on the performance, and create the win in our minds. Believe, and you can manifest success.
Using patience, humor, and mindfulness, I get to know my clients. I use a lot of proven strategies in sport psychology and I dig into your process. I assist you in implementing effective habits, and I help you discover triggers and tools to shift gears and move forward. What is your goal? What do you struggle with? Learn mental skills and clear facets of training that discipline the mind and body…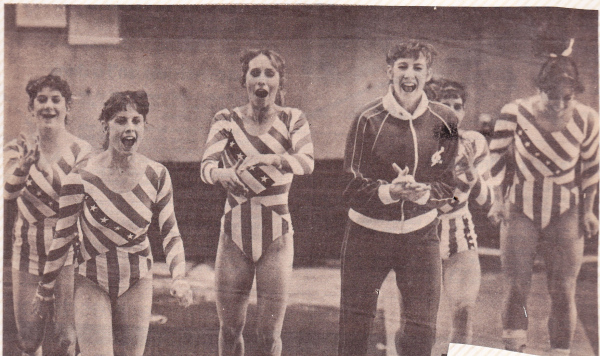 University of Utah – winning the 1983 NCAA National Championships (Lisa in sweats)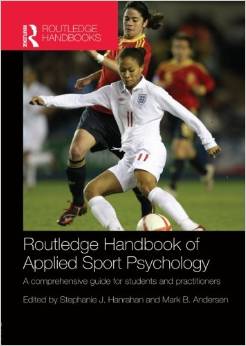 This sport psych academic book is one of my excellent resources in teaching mental skills. I was also honored to co-author Chap 5.
SCHEDULE LISA FOR EVENT SPEAKING OR CLINICS
Author. Speaker. Coach.
Lisa Mitzel works with athletes and sparks higher-mind thinking from years of training and coaching.